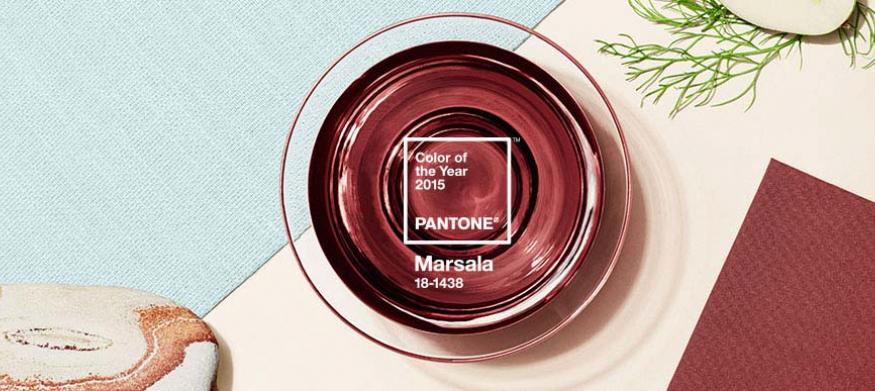 If there is ever a month that has a color that is almost symbolic of that month, it's February and the color red.
But in 2015, it's not just red. It's Marsala, and that is our first trend to watch.
Marsala
"A naturally robust and earthy wine red, Marsala enriches our minds, bodies, and souls."
So many of the past colors of the year have been bright, vibrant, dynamic colors that typically reminded us of spring and summer.  The luscious Radiant Orchid in 2014, enchanting Emerald in 2013, beautiful Tangerine Tango in 2012, sweet Honeysuckle of 2012, and we could go on and on.  That must have been on the minds of the color of the year selectors:
"While PANTONE 18-3224 Radiant Orchid, the captivating 2014 color of the year, encouraged creativity and innovation, Marsala enriches our mind, body and soul, exuding confidence and stability," said Leatrice Eiseman, executive director of the Pantone Color Institute®. "Much like the fortified wine that gives Marsala its name, this tasteful hue embodies the satisfying richness of a fulfilling meal, while its grounding red-brown roots emanate a sophisticated, natural earthiness. This hearty, yet stylish tone is universally appealing and translates easily to fashion, beauty, industrial design, home furnishings and interiors."
Marsala is definitely in a different class than it's predecessors, and while we loved (still love!) the bright and happy tones of those colors, we are looking forward to weaving such a sophisticated and timeless color into our 2015 events.
Emerging Destinations
Cvent has identified emerging destinations like Brazil, Nicaragua, Turkey, Oman, Botswana, South Africa and Indonesia as hot emerging destinations to watch in 2015. With the 2014 World Cup in Brazil behind us and 2016 Olympics coming up in Rio, it's no surprise that Brazil is topping the list.  Many articles have been written that hosting large, high-profile events has minimal long-term economic impact on the host city.  But, highly successful corporate meetings and events in emerging destinations do have the potential to bring more business travel and tourism to emerging destinations. 
Fingers crossed that some of our upcoming events find their way to being hosted in one of these exciting destinations!
Floral Follows Food
Going local with food options and farm-to-table options at events are not new or trendy anymore (but we still love them!), and according to BridalGuide.com, a big 2015 wedding trend that will also find it's way to corporate events is sourcing local blooms and greenery for décor.  We love this trend for a few reasons: it's about time floral followed food, we love supporting local businesses, and it can be a great budget saver!
Drench
The Event Industry Trends Report 2015 says "the word defining the event industry for 2015 is drench. The event of 2015 will drench attendees. It will make them feel they own the space and the content being presented. The role of technology will be crucial in facilitating this incredibly immersive experience. As attendees become more knowledgeable and connected and event professionals advance their expertise with technology, traditionally static events will become immersive experiences"
We love this!
The concept of planning events that truly involve the attendee is not new, but it is finally getting the attention that it deserves.  Yes, events are a tactic used to meet organizational goals. But, focusing too much on what you are trying to accomplish and not enough on what you want your attendees to know, do, and feel can leave you with an unengaged, uninspired audience.  We've been working with our clients on this concept for years, and love that it is finally becoming a "trend"!
Your Turn
Any other event trends you are watching in 2015?