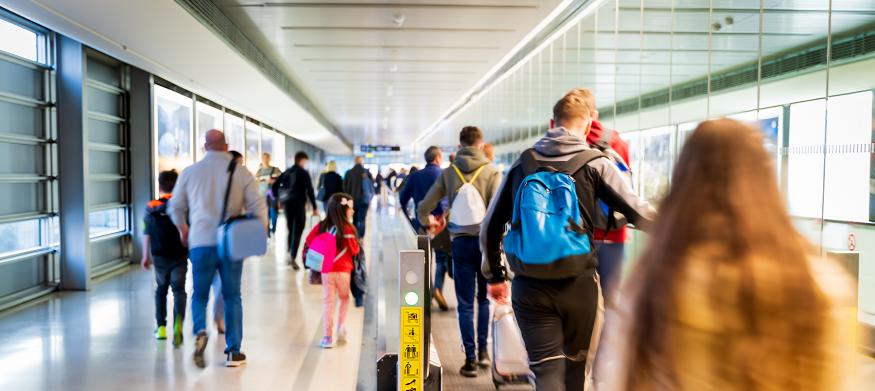 Managing events all of the country (and world!) for my clients means that I spend a lot of time in airports. A. LOT. OF TIME. Like everyone who travels frequently for work, I have my fair share of airport horror stories. But over the years, I have learned many tips and tricks that will help avoid most airport and travel-related stress factors. (Note: if you are looking for the tip that avoids all flights delays and weather-related issues, I'm still perfecting that one and it's not quite ready for prime-time yet).
If you are traveling through an airport this holiday season, here are my tips to make the experience as stress-free as possible.
Finding the Best Fares. In general, avoid traveling on a Monday or Saturday if you are searching for the best fare. Sometimes (sometimes!) waiting until last minute works – especially if you are willing to have a layover and not a direct flight.
Travel To and From. Put a few minutes of thought into how you are getting to the airport and home from the airport. During my last few trips, I drove myself and paid for parking because they were short trips and parking was less expensive than a ride. But, if I am traveling for more than a few days, the cost of the Uber or Lyft to/from the airport is less than paying for parking.
Consider Your Baggage. Make sure you know the airline policy for baggage (weight limits, quantity limits, fees, etc). If you are planning to carry your bag on to the plane, be sure that it meets the size restrictions for your airline and flight. Also, check in early or pay for the early boarding group (if your airline offers it) to know that your bag will be on the plane with you before they run out of overhead bin space and force you to check your bag.
Weigh Your Bags. My extreme travel schedule has given me a super power: I can lift up my bag and tell you whether it weighs 48 pounds (sweet!) or 53 pounds (time to rethink the 6th and 7th pairs of shoes). If you don't have that super power, weigh your bags before leaving the house. You don't want to be the person repacking your bags at check-in to avoid paying the $100 fee because your bag is 2 pounds overweight while everyone watches and silently judges you for holding up the line. Pro tip – on average, jeans weigh 1.5 - 2 pounds per pair. If your bag is slightly overweight, take out the jeans first.
Backpacks Rule. Seriously, backpacks are a traveler's best friend and the storage space in them is magical. You'd be amazed how much you can fit in a backpack. And once you are amazed, it can STILL fit even more (like the 2 pairs of jeans you had to take out of the checked bag to meet the weight requirement). Pro tip – if your backpack is textured and not leather, and you are wearing a sweater or sweatshirt, it can cause pilling. Yes, I am speaking from experience.
Arrive Early! If you have expedited security clearance, plan to arrive at the airport at least 90 minutes before your departure time for domestic flights. This gives you a small cushion that can accommodate slight traffic delays (or, leaving your house slightly later than you had planned). If you need to wait in the regular security screening line, you should plan to arrive at the airport 2 hours before your scheduled departure time (for domestic flights). If you are traveling internationally, plan to arrive no later than 2 hours before your flight, and preferably earlier.
Be Polite. Just like you, the check-in, security and gate agents are all juggling their work schedule with personal priorities and commitments. This is their job (not their life) and they are trying to follow the rules and policies set by their companies (they didn't make the rules). If an agent seems a little frazzled, maybe he/she isn't out to ruin your day, and instead is simply worried about being late to his/her daughter's holiday concert at school tonight or trying to figure out when he/she will have time to get to the store to pick up that last gift on the list. Empathy for others goes a long way, and you might just change a person's day for the better by being a kind human being. It's the holiday season – spread peace and goodwill wherever you go.
Wishing you a safe and happy holiday season to make new memories with the important people in your life. See you next year!