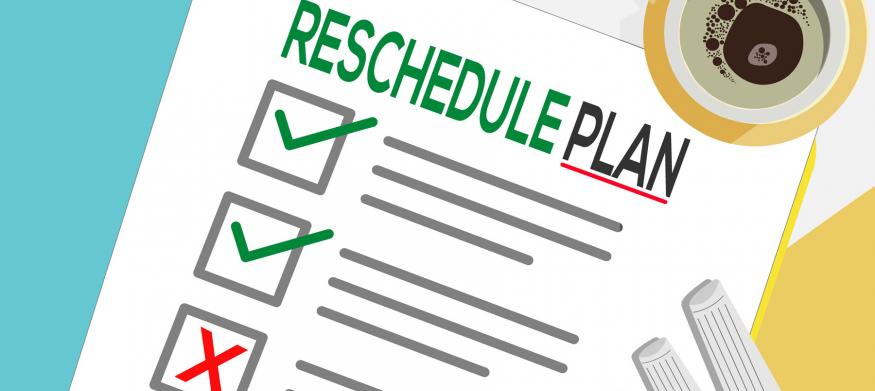 A few weeks ago, I provided 10 tips for making decisions about your events in this unprecedented time. By now, you have likely postponed, rescheduled, or canceled all spring and summer events, and are trying to figure out what's next.
I am working through a myriad of different situations with clients and I have new definitions for postpone vs reschedule:
If the event or meeting must happen this calendar year, I am considering it a postponement. Some of the situations where this applies include association clients with a bylaw requirement for an annual meeting within a defined time period, association clients who must provide education to members, and corporate clients who are still able to work and need to provide training to employees.
If the event can be moved to 2021, I am considering it a reschedule.
Once you have made the official decision to postpone or reschedule, here are 8 things you need to know and do:
Plan with your venue. Without a venue, you do not have a rescheduled or a postponed event – you have a hypothetical planned event. Many venues are being extremely flexible with clients and planning new dates.
Pick a new venue. If your original venue cannot accommodate, or you had not officially contracted with a venue yet, be creative about venue selection. Venues that previously may have been out of reach due to budget or high demand, may suddenly be more accessible. It can't hurt to have a conversation with these venues – your contract may be a lifeline to them.
Work with all event stakeholders. Before finalizing a new date, approach your speakers and critical vendors to ensure that the date is available. This is especially important if your speaker(s) will be the main attendance draw.
Announce, if you must. If you have a new date and are under pressure to announce it, do it once and then wait until things begin to stabilize and normalize before opening registration or implementing your full marketing plan. A preferable option is to announce that the event is being postponed or rescheduled, and more details will be announced later. This provides you with much more flexibility.
Be honest and succinct in communications. Communicate critical information that attendees need right now and eliminate the marketing spin and fluff. For each sentence of your communication, ask yourself "do my attendees need to know this right now?" If the answer is yes, the sentence stays. If the answer is no, remove it.
Anticipate attendee needs. Take the time to think about the questions that attendees will have and provide clear answers to those, before being asked. As an example, if your attendees have paid a registration fee, be sure to address the process for applying the fee to the rescheduled event or requesting a refund.
Think about event execution. Contracting for a new date in Q4 does not necessarily mean you will be able to execute your event in the same way you had planned. There are still many unknowns and planners need to be sensitive to those. Think about a traditional team-building activity where attendees are working in a small group to build or design something – if social distancing guidelines are still in effect in the fall, this type of activity may not be possible.
Contingency plan, part 2. Even if you have a new date and everything is in place for your postponed or canceled event, there is no guarantee that it will happen. Start preparing your contingency plans now for how you will handle your event if it does ultimately become a cancellation.

Speaking of cancellation, stay tuned for our next set of tips for handling event cancellations now and preparing for upcoming cancellations.