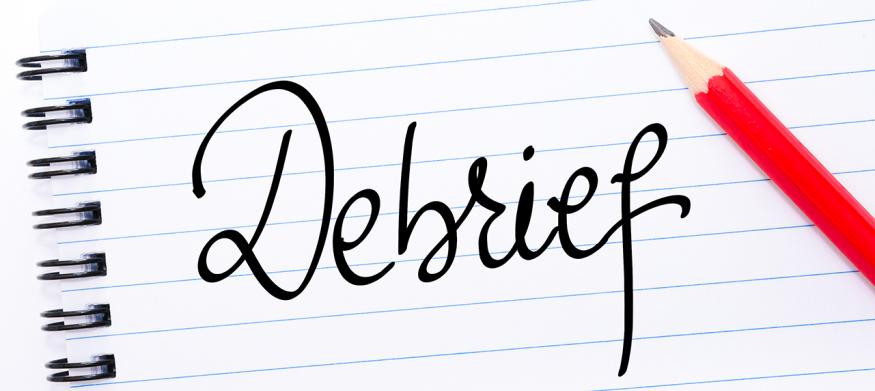 A post-event debriefing means different things to different people. For me, a debriefing is not a singular meeting. It is a phase that begins at the initial event strategy session and ends with a series of meetings and reports after the event has concluded.
Pre-Event Process
Throughout the planning cycle, my team regularly spends time documenting what is working well, what is not working and needs attention, and how the current state of planning efforts aligns with the overall event goals. This level of documentation not only helps us identify and fix potential issues in the process quickly and efficiently, but serves as a blueprint for creating the post-event documentation.
On-Site Process
Similar to our pre-event process, we spend time each day documenting items that need attention in the debriefing – either because a process worked exceptionally well and needs to be replicated, or it needs to be re-evaluated for future events.
Before leaving an event, we kick off the official start of the debriefing phase with the applicable venue staff to review event execution and gather feedback on what worked well and what needs attention in the future. This feedback is invaluable, as they work on events every single day and are privy to a wealth of best practices from a wide variety of clients and types of events.
Post-Event Process
Immediately following an event, some members of our team dive into budget reconciliation and others into the debriefing. Our debriefings involve a series of meetings with multiple audiences. The series always starts and ends with a meeting of our internal event team. During the first internal debriefing, we cover the good, the bad, the ugly, and everything in between. We analyze every component of the event to not only report out results to our client, but also to highlight best practices that can be replicated in other events.
Following our first internal debriefing, we conduct meetings with sponsors, exhibitors, partners, speakers, and any other key event stakeholders to review their participation in the event and gather their feedback.
Once the information gathered from the venue, internal team, and external stakeholders is documented, we conduct a thorough debriefing with the client team. To maximize the effectiveness of this meeting, we set the ground rules and follow a specific structure:
Rules: no rebuttals, no framing, no blame, no explanations.
Structure:


What processes are we celebrating because they worked well?
What were the key challenges?
What processes should be continued?
A review by functional area of the event (i.e. food and beverage, AV, transportation, etc).
A day-by-day review of key events.
The final meeting in our process once again gathers our internal event team to review and discuss all findings to prepare the final debriefing package that is presented to our client and includes recommendations for future events that are similar in scope and size.
Your Turn:
A common struggle in the debriefing process is scheduling because people have moved on to other priorities. What is the most common struggle you face in conducting the formal debriefing process?