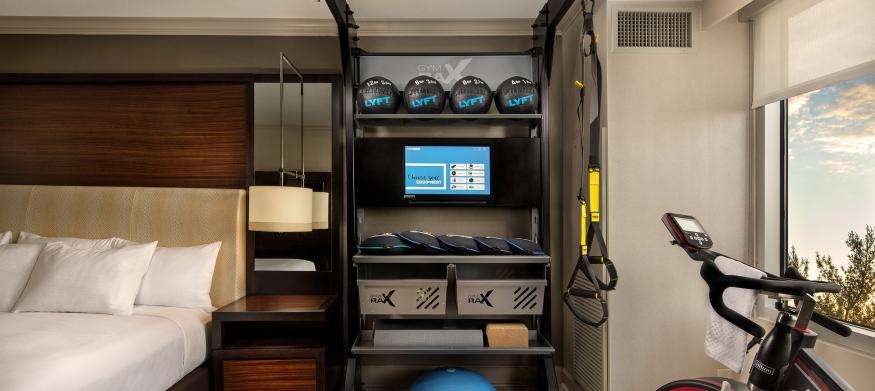 Photo Credit: (c) 2017 Hilton Worldwide
Hotels often market unique or trendy room amenities to set themselves apart from the competition. As a seasoned traveler, rarely do the articles about new and innovative amenities catch my attention for more than a nanosecond. And when I read "4 Ways Hotel Room Amenities are Evolving to Suit the Modern Guest," my sole purpose for reading it was to file it away in my mind as industry knowledge.
Room service, got it.
Mini-bar stocked to my liking? Interesting, for those trips when I will actually spend time in my room beyond sleeping (which are rare for me).
Smaller room size and no closets or desks? Seriously? As a business traveler, smaller room size usually won't matter to me (see above, I'm rarely in my room), but no closet in which to hang my clothes? The reality is that I'm not going to be ironing every day, so I really do need somewhere to hang the clothes so that I am presentable and professional. The wrinkled-from-the-suitcase look just does not work.
In-room gym? Now, you've got my attention!
I recently wrote about my journey to be healthier this year, and I made a commitment to my daily gym routine. Even while traveling this year, I have (mostly) kept this commitment and visited hotel gyms. But as any event professional can attest, it's difficult to make time to do this on days when your only free time is 4 hours. And that's the time when you are supposed to be sleeping, because those 4 hours happen to be midnight to 4am. An in-room gym means even if you only have 10-15 minutes, you can actually squeeze in some fitness time (rather than spending those 10-15 minutes walking to the hotel gym, doing 3 minutes on the elliptical, and then walking back to your room).
According to the article:
"At the end of May, Hilton launched its Five Feet to Fitness concept in two hotels and will be rolling it out at several other properties nationwide. "The variety of activity the room enables is motivating," said Ryan Crabbe, senior director of global wellness for Hilton. "One morning, a guest can decide to roll out of bed for quick guided stretch and yoga poses. Then later that evening, he or she may return from a stressful day and take a brisk bike ride while catching up on a favorite show or the day's business news. The room is made to suit the varied and evolving wellness habits of our guests."
This prompted me to learn more so I searched for the Hilton announcement, and 2 quotes in that announcement stood out:
"A guest room that combines a sleep and fully integrated fitness experience delivers an impressive new dimension of convenience and personalization - an industry first."
"We know that no matter how determined people are about making healthy decisions while at home, the ability to replicate those choices are often not as accessible as they should be while traveling. We're creating choice and control for guests to drive their own fitness experience."
As I said in the beginning, news about new hotel amenities rarely keeps my attention. But this news did. And beyond catching my attention, it will make me more likely to seek out a hotel room with this feature.
What do you think? What new amenity has caught (or will catch, if someone creates it) your attention?