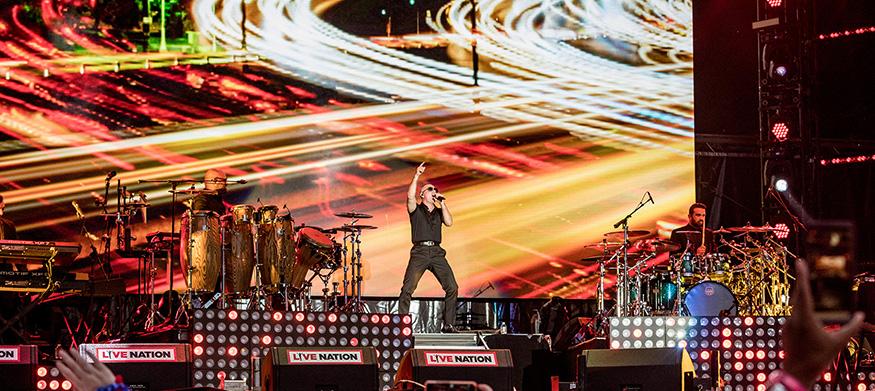 Photo Credit: Ed Newton for Live Nation
As many of you know, the Perfection Events team was part of the Wawa Welcome America team earlier this summer, and as many of you can imagine, a project like this is a massive undertaking. This was a project that involved a lot of blood, sweat, and tears (those of happiness, as well as those of exhaustion!) and we are so proud of the experience we helped to create for everyone who attended the event in-person and those who tuned in via TV and device screens.
Now that we've had a chance to recover and decompress, we see some of the highlights of our experience with a different perspective. Many planners have been in an intense planning situation where you do whatever it takes to get the job done in the moment, and once it's done, you look back in amazement at what you were able to accomplish under pressure. With the event now behind us, we have the gift of perspective and we can review and analyze every element to learn how we can take this experience into future events.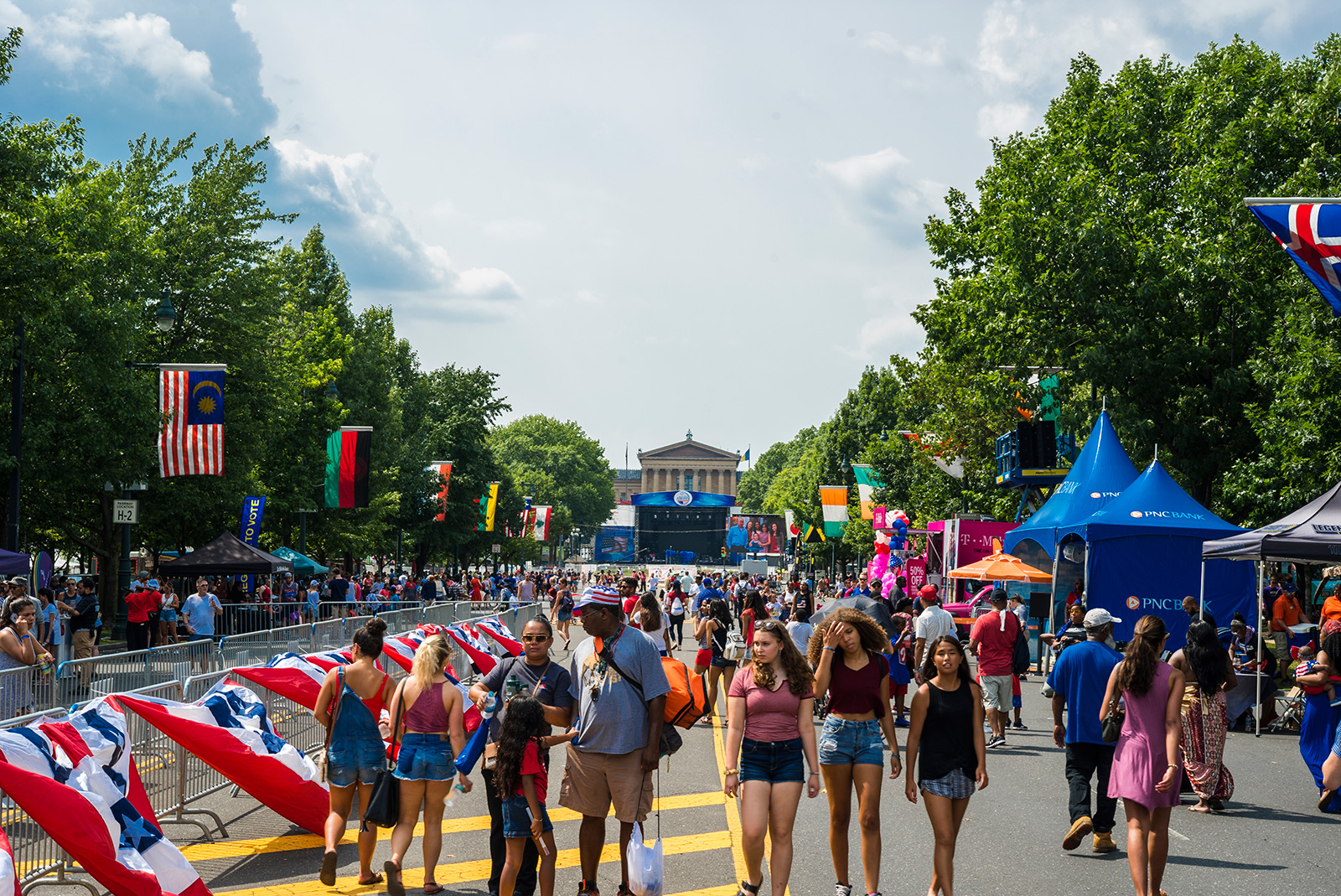 Photo credit: REC Philly
Public Safety
Let's first talk about public safety and emergency management – until you've been in a planning situation like this, words alone can't adequately convey the depth and breadth of effort put into keeping the public safe. The City of Philadelphia Office of Emergency Management, Philadelphia Police Department, Pennsylvania State Police and the Department of Homeland Security were just a few of the agencies involved in this effort and their dedication and attention to safety and security cannot be overstated. One of the most heart-pounding experiences I've ever had as a planner was getting that radio call to report to Command Center immediately. There were thunderstorms in the area and we had to make a decision. Ultimately, it was determined that the show could go on that evening, but getting to that decision required a tremendous amount of teamwork, quick-thinking, expertise from training drills, analytical assessment, and appropriate chain of command.
The absolute adherence to the mission of public safety, first and foremost, extended far beyond event security or even the Philadelphia Police Department. The event attracted a massive crowd that reached from the Philadelphia Museum of Art all the way to Logan Circle—more than 200,000 people over the course of the day—and a LOT goes into keeping of crowd of this size safe. From the city sanitation department placing 500 trashcans, the health department arriving around 4:30am at the checkpoint to review food temperatures and conditions, the Public Works and Parks & Recreation department placing thousands of feet of fencing, barricade and bike rack, the fire department and EMS staffing more than 3,500 square feet of EMS tenting, and the city's Special Events department making sure that ALL of these various departments were coordinated, collaborating, and kept informed—every single effort was carried out knowing that each piece rolled up into a master public safety plan that worked. The level of professionalism and commitment to safety of everyone involved in the celebration was evident throughout the planning cycle, and we are thankful for the opportunity we had to work with such a remarkable group of people.
Mr. Worldwide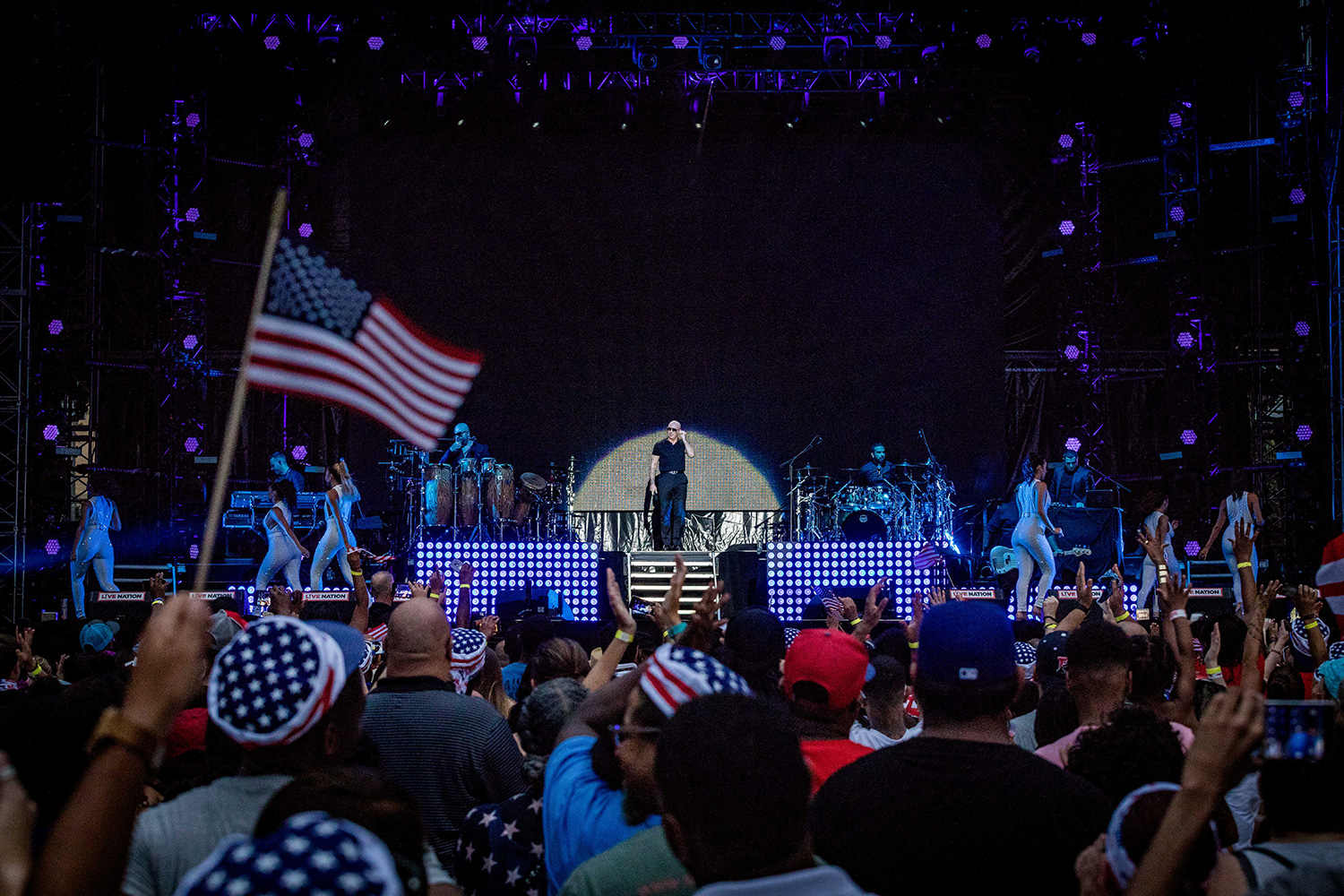 Photo Credit: Ed Newton for Live Nation
Simply stated, Pitbull was amazing! It was an incredible show for a lot of reasons, and also a very different kind of show for Welcome America. Pitbull was a great choice for this show because he is a crossover artist who appeals to so many different age groups and demographics. Basically, everyone loves Pitbull! He puts on an amazing show, and his show requirements are quite extensive, which gave us the opportunity to elevate the production. Whether you saw the show in-person or on a TV or mobile device screen, it was amazing. It was one of those rare performances that is incredible live, but also had on-screen viewers still feeling connected and like they were there.
Fireworks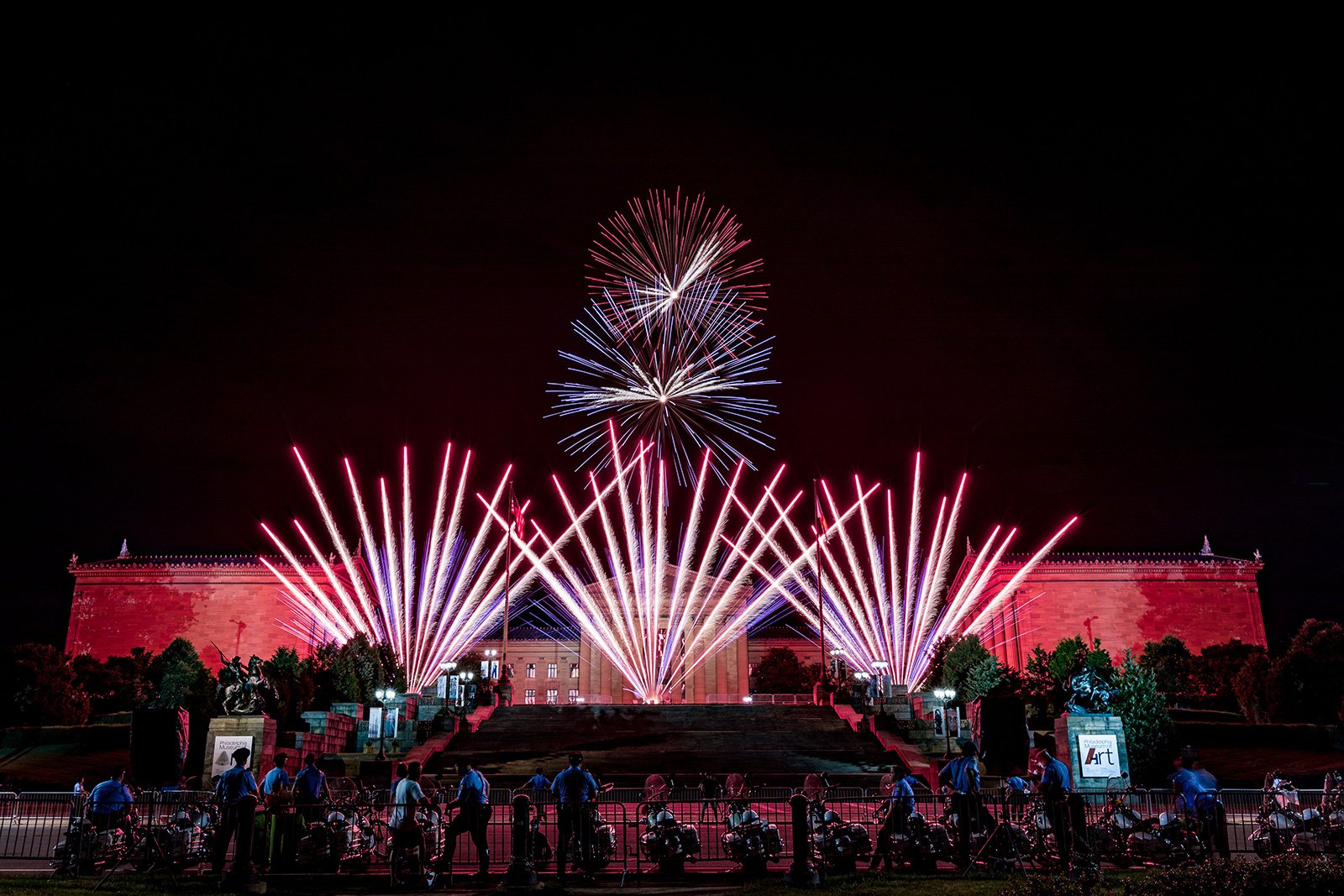 Photo Credit: Ed Newton for Live Nation
All planners know that every event typically has at least one of those "oh, I never thought about that before" moments. Our favorite from this event is that we learned that fireworks don't shoot straight if the bottom gets wet. Perhaps we thought that maybe they don't work at all if they get wet, but we certainly never thought that they would still work, but just not shoot straight in the air. In 2017, the July 4th festivities were interrupted by a bit of downpour, and in 2018 we got a lot of rain in Philadelphia in the days leading up to July 4th. A. LOT. OF. RAIN. So again our amazing City of Philadelphia Fire Code Unit stepped in with a plan to ensure [say it with me…] PUBLIC SAFETY! We incorporated 5 risers into our operations plan to keep the fireworks elevated. And now you also know that fireworks don't shoot straight when they are wet! Of course, this isn't a practical matter for you because you would NEVER shoot fireworks from home… :-)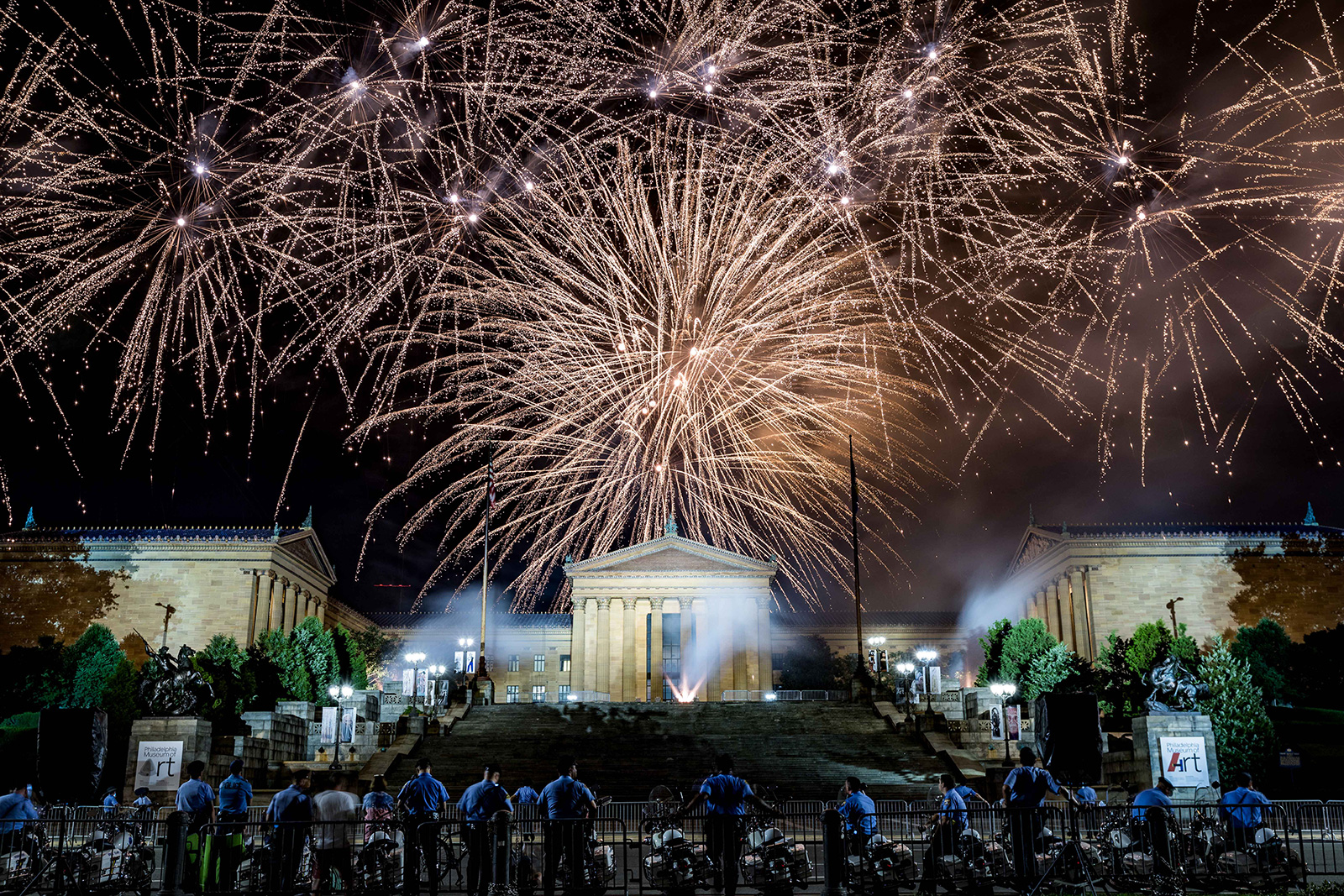 Photo Credit: Ed Newton for Live Nation
There are thousands of moments and stories we could share about this event, and we are grateful for the new things we learned, the things that made us laugh, the things that inspired us, the things that will evolve our planning process to the next level, and most of all, the new relationships we developed. Our new friends and family we've gained in working with the various city departments, event producers, vendors, partners, sponsors and Welcome America staff are PRICELESS!