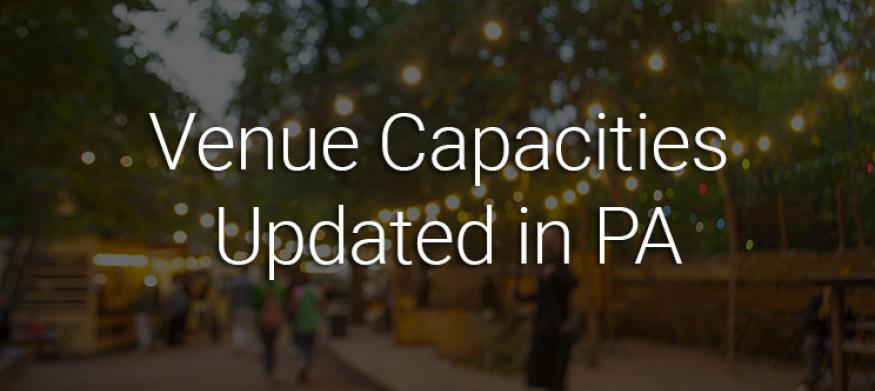 Moving from 15% to 25% of maximum occupancy! Last week, PA Governor Tom Wolf announced that big changes are coming on Sunday, April 4.
Beginning April 4, the revised maximum occupancy limits for indoor events will be 25% of maximum occupancy (up from the current 15%), regardless of venue size, and maximum occupancy limits for outdoor events to allow for 50% of maximum occupancy (up from the current 20%), regardless of venue size. Entertainment facilities (including casinos, theaters, and malls) will be increasing to 75% occupancy. Maximum occupancy is permitted only if attendees and workers are able to comply with the 6-foot physical distancing requirement. In all cases, event and venue staff are to be counted in the total occupancy limit.
The changes do not impact the current guidelines within the city of Philadelphia, where more restrictive limits remain in place. But, the Philadelphia Parks and Recreation office and Office of Special Events have started accepting permit applications for large outdoor events. Applicants are required to follow all public health guidelines on the day of the event, and a COVID-19 safety plan may also need to be submitted for approval. The Philadelphia Streets Department will also begin accepting applications on April 15 for permits for block parties and street festivals.
As a reminder, for outdoor events/venues that do not have an established National Fire Protection Association (NFPA) code capacity, the maximum occupancy can be calculated at 67 people per 1,000 square feet. As an example, the maximum capacity for a 30,000 square foot outdoor area is calculated to be 2,010 people and, under the new guidelines, the attendance would be limited to 402 people (20% of the maximum capacity of 2,010).
A few weeks ago, when Pennsylvania moved to allow 15% indoor occupancy, we said that there is a long way to go to get to 100% allowed occupancy. The increase from 15% to 25% indoor and 20% to 50% outdoor are more big steps to bringing life back to the events and hospitality industry.