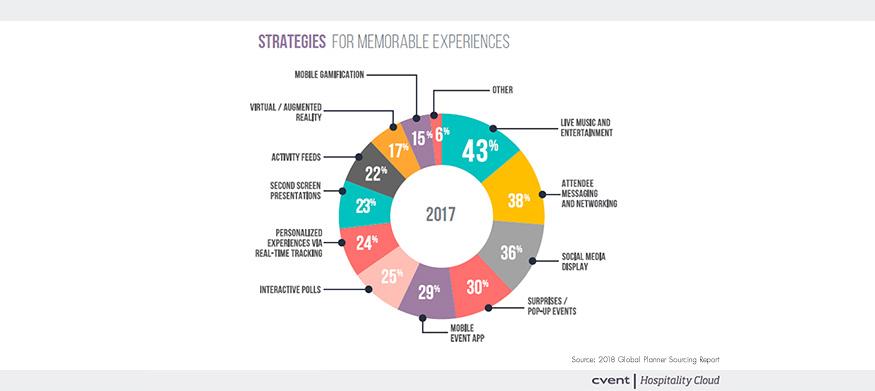 Cvent recently released the 2018 Global Planner Sourcing Report, and while the information about total spend on event budgets, number of meetings, and destinations is interesting to read and good industry information to have, that's not usually where my focus is when I review survey results. My clients have their budgets, they know how many meetings they plan, and there are many factors that go into selecting the destination (and survey results hasn't been one of those factors yet!), so that kind of data is typically not relevant or tangible to them.
What is extremely relevant is how to continually up our game as planners to help our client up their game for their attendees, which increases the value of the event. When I started reading the results of this latest survey, I made a beeline for "The Experience" section. From the study:
Planners' interest in atmosphere also proves the significance of the event experience for attendees, which is constantly evolving as trends in technology and generational expectations change.
The importance of integrating social media displays has grown steadily over the past few years, and for the second year in a row, it ranks as the third-most-used strategy for creating memorable experiences.
Despite maintaining its position, however, the use of social media displays has dropped by 6 percentage points. This may reflect the growing popularity of more visual social channels such as Instagram and Snapchat, over text-based platforms such as Twitter, which is often used to gauge attendee feedback and manage onstage question-and-answer sessions.
Over the next few years, we expect to see mobile event apps replace integrated social media displays as the preferred method for connecting with other attendees, providing feedback, and asking speaker questions in real time.
The strategies that saw large jumps in popularity from 2017 to 2018 include:
Mobile gamification
Virtual/augmented reality
Personalized experience via RFID
Surprise/pop-up events
Based on our anecdotal experiences, this list, along with mobile event apps, is what clients want to talk about when they have a goal of improving the overall experience. We've been seeing all of these trends on the consumer side for the last few years so it's not surprising to now see that trend showing up in events too.
The one data point that did surprise me is that live music and entertainment dipped a bit in 2018. Again, from our experience, live music is always desirable and something that does draw attendees in and, even with the slight dip, this is one of the most common strategies to creating the experience. Many of these areas, especially ones related to technology and social media, are typically viewed differently depending on the demographic (especially age) of your audience, but the popularity of live music spans all demographics and ages. It's still at the top of the survey list, and I don't expect it to give up that spot any time soon.
What strategy has been most effective for you recently, or which are you trying for the first time at an upcoming event? Is there something you've thought of trying, but aren't sure it will be a hit? Tell us on Facebook or Linkedin and I'll give you my 2 (maybe 4) cents!